Steering Repairs
This service is only offered at certain locations. Please choose a store location and refresh this page to find out if your local store offers steering system inspections and repairs
Steering Repairs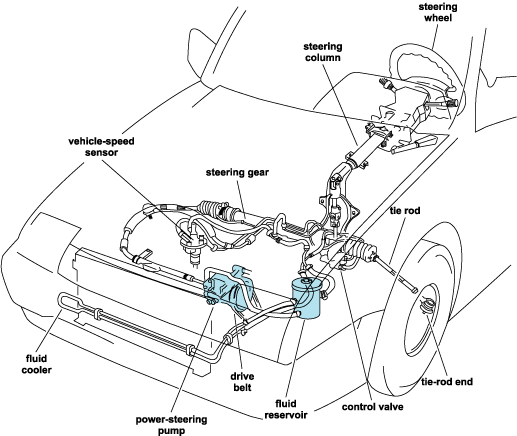 Your power steering system is one of the hardest workers in your car. It's also pretty complex, with pumps, drive belts, bearings, valves, hoses and seals that need looking after. We don't notice a steering problem until something goes wrong, and that's usually too late.
A service is always going to be cheaper than repairs, so do you and your car a favour and have your steering system serviced regularly. Your safety is more important than anything else.
Power Steering Fluid
Do you ever hear whining when you try to turn your steering wheel? If you do, it's time to get it checked out. Fixing a wearing power steering system isn't as easy as topping the fluid up. It's a sign that small metal particles are contaminating the power steering fluid and wearing down your seals and valves. This eventually causes a leak and your power steering will take a hit.
As well as regularly topping up your power steering fluid, it's important to completely replace and drain it every now and then.
Wheel Alignment
Correct wheel alignment will also make life easier for your steering system. Imbalances are only going to put a strain on your steering, so make sure you keep on top of alignment issues.
Regular Maintenance
Regular servicing is a better option than waiting for things to go wrong and facing expensive steering repairs. A power steering service involves a safety and performance inspection of the entire system. To be on the safe side, it is worth having your suspension and brakes inspected too, as all of these components need to work together.
Contact Tyrepower to Book a Steering Service