Tyre Pressures
Your Tyre Pressure Guide
Are you checking your tyre pressure as regularly as you should? While it may not seem like it, tyres lose pressure every day. Generally, a tyre can lose up to one or two kilopascals of air per month in cool weather – and even more in the warmer months. They're also subject to flexing and impacts that can diminish their air pressure. Remember how often you'd have to pump up your bike's tyres just from riding it around? It's a similar situation for your car. The effects of not maintaining good tyre pressure include:
Reduced fuel efficiency

Poor tyre life

Bad handling (perhaps even loss of control)

Potential vehicle overloading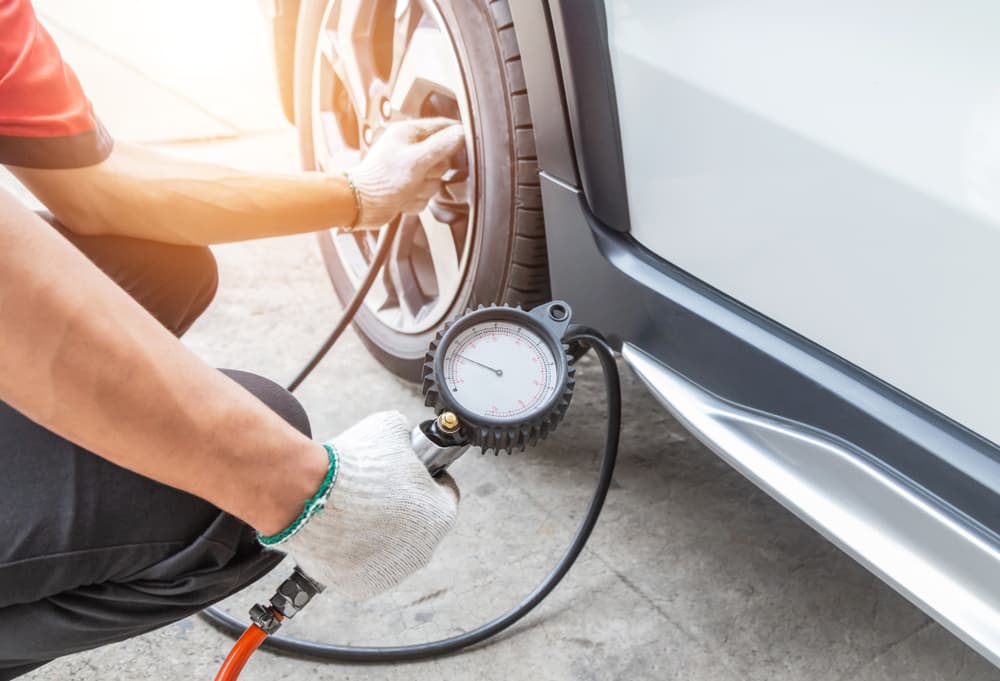 Benefits of Routine Tyre Pressure Checks for Your Car
There are a number of benefits to performing routine tyre pressure checks. By having a normal tyre pressure, not only will your tyres wear longer, you'll also save petrol, enhance handling and help to prevent accidents. All of these ultimately save you money in the long run, improving your tyre purchases' return on investment.
Environmental impact
Aside from the personal benefits of routine tyre pressure checks, it can also have environmental benefits. By maintaining a normal tyre pressure level, your tyres will typically last longer (provided you're following other aspects of tyre care). This means they'll last longer, leading to fewer tyres ending up in landfill.
How & When to Check your Car's Tyre Pressure
Many people believe that all it takes to measure your car's tyre pressure is by looking at the tyres and judging their sidewall appearance. In reality, it's not that simple. Properly checking whether you have normal tyre pressure requires an accurate air gauge.
While you can check your tyre pressure when visiting the petrol station, this should only be used as a guide. This is for a number of reasons:
Air gauges at petrol stations are typically inaccurate due to exposure or abuse.

Most drivers have typically been driving more than 1km when they fill up their tank with petrol, which heats the tyres up. (Tyres should be cold when checking if air pressure is at a normal level).
Ideally, you should invest in a quality air gauge, or you can arrange to have your tyre pressure checked when you perform on any other tyre care, such as wheel alignment or tyre balancing.
You should also remember to replace the valve caps to keep out dirt and moisture. Valve caps also help to protect your tyres from sudden or consistent loss of pressure.
Tyre pressure charts
Finding out what the correct tyre pressure is for your car can typically be found inside your owner's manual, or on a chart attached to the car's door edge. This chart covers the maximum vehicle load, the normal pressure for cold tyres, and the recommended tyre size for your car. For example, whether you can have low profile tyres or another style.
Example – Honda Civic
A Honda Civic with the stock size 185/65R-14; recommended air pressure is 193 kpa. Plus one size is 195/55R-15 with a recommended air pressure of 220 kpa. Plus two size is 205/45R-16 with a recommended air pressure of 248 kpa. Note how the air pressure increases with plus sizing to meet the load carrying capacity for the car.
Factors Impacting Your Tyre Pressure
There are a number of factors that can have an effect on your car's tyre pressure, or can necessitate a need to adjust your normal tyre pressure. These include:
Seasonal changes

Altitude changes

Whether you use low profile tyres

Whether you're carrying or towing a load

Changes driving conditions (such as gravel, muddy or sandy roads)
It's also important to note that one of the most dangerous conditions that can exist for your tyres is the slow leak. Sometimes a nail, screw or another object will puncture a tyre and act as an inefficient plug. Your tyre's air pressure will drop slowly, usually over a few hours or days. This is why you should always remain alert to any symptoms, such as unnatural pulling or vibrations.
If you detect anything, it's recommended you inspect your tyres, keeping an eye out for any bulging sidewalls or excessively hot tyres, both of which indicate a slow leak. In this scenario, you should put on your spare tyre and visit your nearest Tyrepower to repair (or replace, if necessary) the punctured unit.
Tyre load & inflation guides
One of the main causes for tyre failure is under inflation and overloading. This is especially common in trucks and 4WDs, as the load configurations for these types of vehicles is vast. When loading your 4WD or truck, the proper inflation pressure should be determined by the actual tyre loads, as this can change from trip to trip. Ideally, it's best if you weigh the vehicle before adjusting your tyre pressure in this scenario.
Tyre Pressure Checks are as Important as Tune Ups for Your Car
By maintaining a normal tyre pressure level for your car and following the recommended charts and guides, you'll increase the longevity of your tyres and help to prevent tyre failure. If you need assistance in checking your tyre pressure, or you want information on tyre maintenance visit your nearest Tyrepower or give our friendly team a call on 13 21 91 today.