Tyre Rotation
The Importance of Tyre Rotation
If you want to keep your tyres in optimum condition, you'll need to ensure you're taking them in for maintenance and servicing at regular intervals. Car tyre rotation is an excellent way of ensuring this, as it helps to even out the wear on all of your tyres.
Keep reading to learn more about tyre rotation and the benefits this service can provide.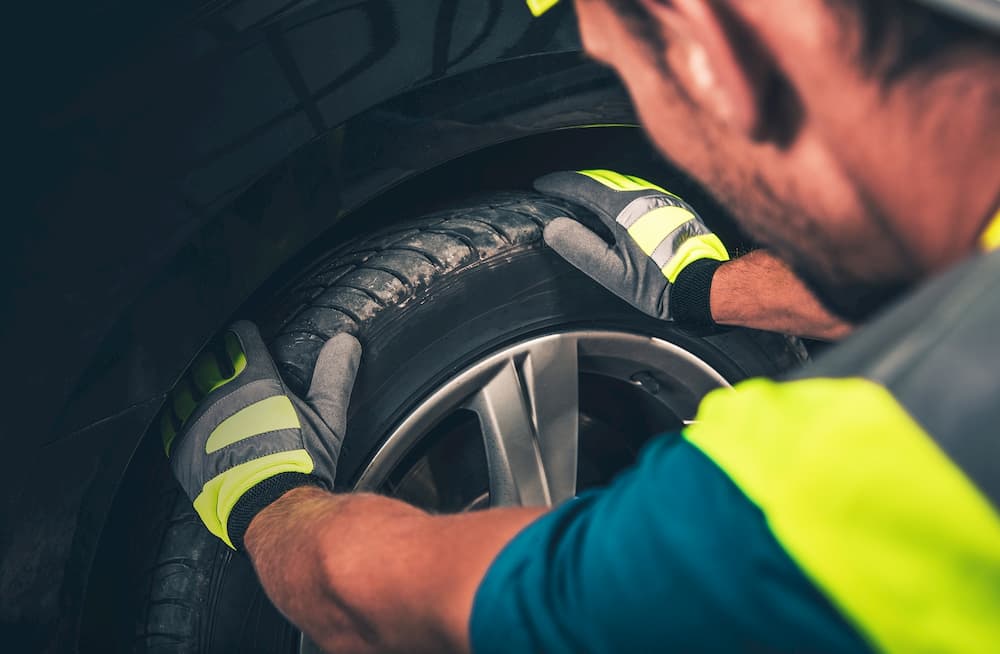 Tyre Rotation Frequency
How often you rotate your tyres depends on your car. Each vehicle is different, so it's recommended you review your owner's manual to determine the best frequency for tyre rotation.
If you're not sure when your car is due for a tyre rotation, however, a good rule of thumb is arranging it every 5,000kms.
Of course, if you start to notice an uneven tread pattern, it's recommended bringing your car into your nearest Tyrepower sooner. We can perform a tyre fitting and balance as well as your rotation to ensure there's no issues, as well as a wheel alignment if required.
It's important that you establish the reason for any irregularities. Road damage and hard impact sustained by your car can misalign your tyres, leading to uneven wear.
Tyre Rotation Patterns
The following image provides examples of possible tyre rotation patterns you can use.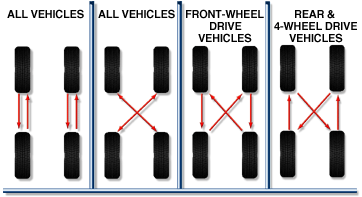 Exceptions to the above patterns
You'll need to keep in mind that some tyres can't be rotated as per the diagram above. This may be due to the fact that the tyres are designed specifically for the front or back of your car, making it difficult to rotate them. They may also have unidirectional thread designs, which wouldn't be effective if moved.
To ensure your rotations are done correctly, it's best that you check your owner's manual. Alternatively, you can visit your local Tyrepower for assistance. We'll be able to help you make the right tyre choices for your car.
Benefits of Balancing & Proper Fitting
Once you've completed your tyre rotation, you will also need to make your tyres are properly fitted and balanced. This is imperative to ensure you get the best wear patterns from your tread. If you don't follow the proper fitting and balancing requirements for your tyres following your rotation, you'll find that you may have the wrong weights on the wrong tyres, which can lead to pulling and poor handling.
Lastly, your car's tyre pressure will also need to be adjusted to suit their new positions. By doing this, you'll not only help with handling, but also ensure that your optimising your petrol consumption.
Tyre Fitting & Rotation are Essential to Proper Tyre Maintenance
If you want to follow the best tyre care practices for your car, proper tyre fitting and rotation are essential. Get your tyres fitted at your nearest Tyrepower today, or call our friendly team on 13 21 91 for assistance.