4wd Driving Tips
The Best Tyres for 4-Wheel Drive (4WD) Vehicles
Off-road 4WD driving is a popular pastime in Australia. But to ensure your safety and the safety of your passengers and other drivers, it's important you drive with the right tyres.
Given Australia's vast range of terrain, there isn't a one-size-fits-all answer for what is considered the best. While there are all-terrain tyres that essentially do what their name suggests, these come with some drawbacks.
There are typically four types of 4WD tyres:
Highway tread: Suitable for city and highway driving.

All-purpose: Can switch between on-road and off-road driving, however the tread is not as aggressive as other tyres.

All-terrain: Works well with all types of terrain; however, may not be suitable as other tyre options in certain conditions.

Mud-terrain: The most aggressive tread. Suitable for muddy terrain, but may not be the best choice in all conditions.
The type of tyre you choose ultimately depends on the type of 4WD driving you plan on doing, and how frequently you plan on doing it. If you need further advice, you can speak to a Tyrepower Pro on 13 21 91.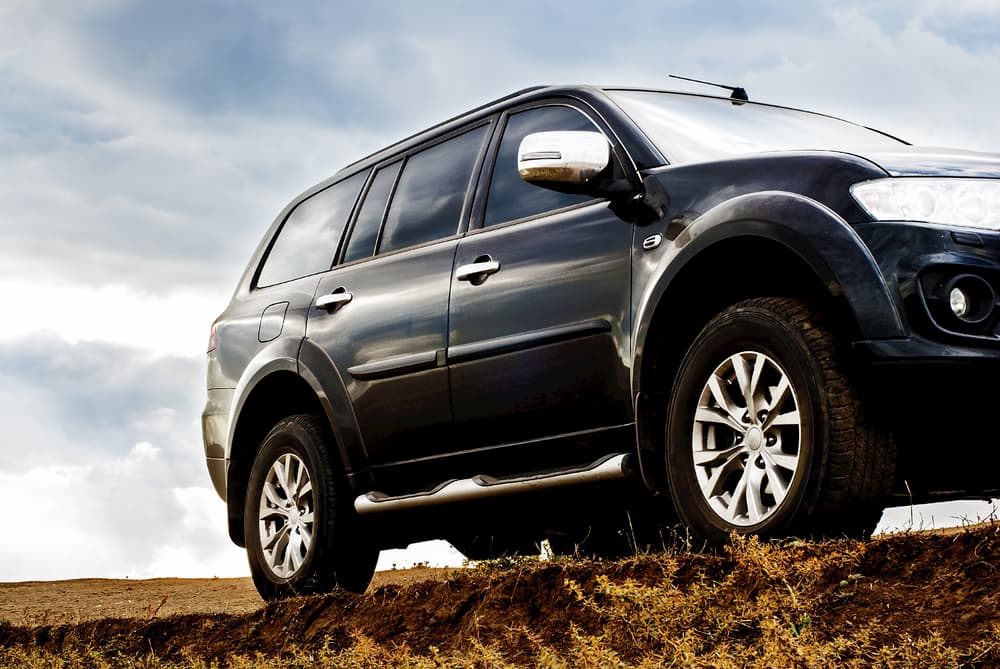 4WD Driving Tips
Below are the types of terrain your wheels can encounter when 4WD driving in Australia. Take a close look at the recommendations to ensure you're getting the best (and safest) performance out of your vehicle. You can also check out our general tyre care tips for more advice.
Outback
One of the most notorious challenges to 4-wheel driving in the outback is the bulldust. Initial instinct is to treat bulldust as if it's sand, but that can become a fatal mistake.
Never deflate your tyres when driving on this type of surface. Beneath those deep and powder-fine stretches lurks a rock-hard base that can pound your chassis on impact and split the sidewall of a partially inflated tyre. It's recommended you select high range and maintain a constant speed between 60-80km/h, correcting any sideways slews with both the steering wheel and more throttle.
Rocky terrain
When 4WD driving in rocky terrain, be sure to maintain contact of all wheels on the ground at all times. This means driving slowly to avoid any tyre slippage from acceleration. Be sure to also avoid rubbing the sidewall of your tyres against any rough surfaces or sharp angles to prevent tears or damage.
If the wheels become stuck, you can drop your tyre pressure in order to move it, but it's important you rectify this as soon as practicable.
Muddy terrain
Should your 4WD become compromised in a muddy hole, attempt to keep all of the free tyres on higher ground. Keep the accelerator on low and turn the wheel from side to side in order to gain traction and lift the car up and out of the hole. High range and a steady throttle should help you out once you gain momentum.
If you manage to free yourself, be sure to check the wheel guards to ensure there isn't mud clogging the tyre tread. If there is, it will need to be cleaned as soon as practicable.
Beaches and sandy terrain
In order to maintain speed on sandy terrain, it's recommended you stay in high range 4-wheel drive. Otherwise, shift into the low range if the car gets stuck in a sand hole.
If you notice that the sand is fine but compacted, driving your 4WD may feel like it's on a road. However, in environments where the sand is loose and windblown, you may need to drive your car at full throttle with partially deflated tyres. Releasing pressure can help the tyre achieve better flotation by giving it a wider footprint. It's important to note that the absolute minimum pressure should be 102-110 kPa.
Once you're able, be sure to reinflate your tyres at your nearest petrol station. In the meantime, drive at a speed no greater than 80km/h.
Get Your Wheels 4-Wheel Driving Ready
If you're planning on doing some serious 4WD driving, it's recommended you pop into your nearest Tyrepower for a check-up. Our team can ensure you have the appropriate tyres for the terrain you intend on tackling, and can also ensure there's no other issues, by completing a wheel alignment service, a tyre rotation or even a tyre balancing.